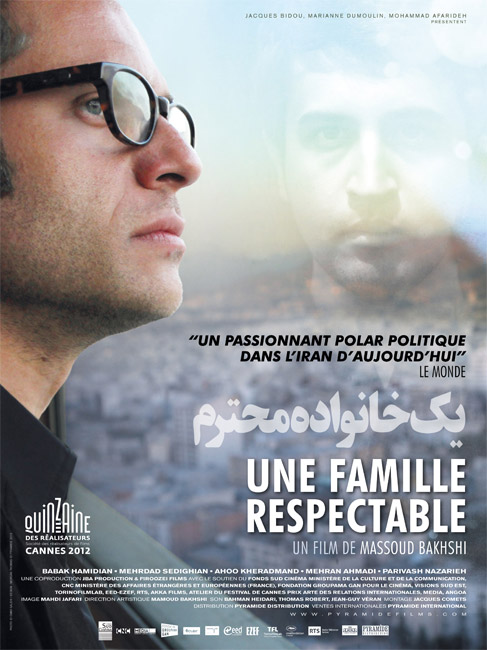 IRAN • 90′
a film by MASSOUD BAKHSHI
Arash is an iranian academic who lives in the west. He return to Iran to teach in Shiraz, a city far from Tehran where his mother lives. Drawn into a series of domestic and financial dramas, he faces a country that is now alien to him. Following the death of his father and the discovery of what his "respectable family" has become, he is forced to make choices.
A RESPECTABLE FAMILY_BA from JBA PRODUCTION on Vimeo.
FESTIVALS
DIRECTOR'S FORTNIGHT – CANNES FILM FESTIVAL (France 2012)
BLACK PEARL AWARD – NEW HORIZONS FESTIVAL D'ABU DHABI (Dubaï – emirats arabes unis 2012)
WORLD CINEMA AMSTERDAM FESTIVAL, KARLOVY VARY IFF, AMSTERDAM, MELBOURNE IFF, MUNBAI IFF, WARSAW IFF, GAND IFF, SAO PAULO IFF, VANCOUVER IFF, CRIME & PUNISHMENT ISTANBUL, LAMA, GARDANNE, SAINT PAUL TROIS CHATEAUX, PIERRELATTE, CINEALMA (FRANCE), BFI LONDON, BRISBANE IFF, BLACK NIGHTS FF, TORINO FF, GUADALAJARA, HAMBURG, WASHINGTON IFF, SEATTLE IFF, FUNF SEEN FF (GERMANY), SCARBOROUGH FF (UK), MALATYA IFF (TURKEY).
PRESS

 Download PRESS KIT


 Reviews
HOW TO GET THE FILM
INTERNATIONAL SALES
PYRAMIDE DISTRIBUTION
32 rue de l'échiquier 75010 Paris, FRANCE • tel : + 33 (0)1 42 96 02 20
SALES FRANCE
PYRAMIDE DISTRIBUTION
DISTRIBUTION commercial and not commercial
PYRAMIDE DISTRIBUTION
DVD
family use
institutional use
PYRAMIDE DISTRIBUTION
VOD
LE MEILLEUR DU CINEMA
6 cité Paradis, 75010, Paris, FRANCE • tel : + 33 (1) 53 34 07 92 •
LETTER OF AGREEMENT FOR FESTIVALS AND DISTRIBUTION
ADDITIONAL IMAGES
CREDIT
author-director MASSOUD BAKHSHI
producers JACQUES BIDOU, MARIANNE DUMOULIN, MOHAMMAD AFARIDEH
production FIROOZEI FILMS
editing JACQUES COMETS
cast BABAK HAMIDIAN, MEHRDAD SEDIGHIAN, AHOO KHERADMAND, MEHRAN AHMADI, PARIVASH NAZARIEH
image MAHDI JAFARI
sound JEAN-GUY VéRAN, BAHMAN HEIDARI, THOMAS ROBERT
year of production 2012
all rights reserved
LANGUAGES
 DCP OV FARSI – STT ENG/FR