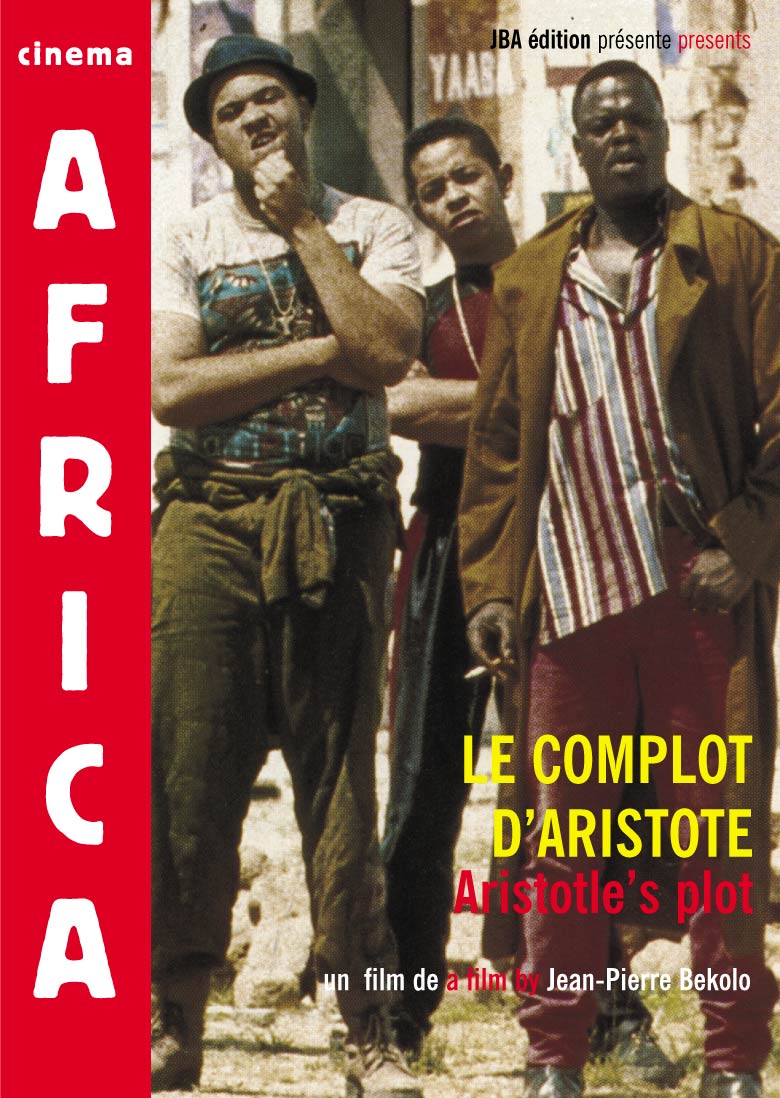 FRANCE/ZIMBABWE  •  70′
a film by JEAN PIERRE BEKOLO
When Essemba Tourneur, an accursed moviemaker driven out of Europe, goes back home, everything seems to have changed drastically. He discovers in amazement that the old movie theater is now occupied by a gang of thugs led by an African nicknamed «cinema», who ingests American movies all day long. Essemba decides to recover the premises in order to project African movies and renames the movie theater «Heritage Cinema». For their part, the hoodlums who have been expelled from town and deprived of movies, are getting bored. They thus decide to strip Essemba's theater and to open a makeshift cinema in the village where they took refuge. Unfortunately, their loot is only made of African movies. With an aching heart, they project them to the villagers who love them. Essemba decides to get his movies back and to settle Cinema and his gang, thus slipping in spite of himself into a real fiction in the American style. A movie which puts on a great act and deals with cinema.
FESTIVALS
BEST SOUND AT FESPACO (Burkina faso 1997)
PRESS

 Download PRESS KIT


 Reviews
HOW TO GET THE FILM
INTERNATIONAL SALES
Films Distribution • 34, rue du Louvre, 75001, Paris, FRANCE • tel : +33 (0) 1 53 10 33 99
SALES FRANCE
Films Distribution • 34, rue du Louvre, 75001, Paris, FRANCE • tel : +33 (0) 1 53 10 33 99
DISTRIBUTION commercial and not commercial
JBA Production • 16 rue Sainte Marthe 75010, Paris, France • tel : +33(0)1 48 04 84 60
DVD
family use
JBA Production • 16 rue Sainte Marthe 75010, Paris, France • tel : +33(0)1 48 04 84 60
institutional use
Adav • 41 rue des Envierges, 75020, Paris, FRANCE • tel : +33(0)1 43 49 10 02
VOD
•  •  •
LETTER OF AGREEMENT FOR FESTIVALS AND DISTRIBUTION
ADDITIONAL IMAGES
EXCERPTS
CREDIT
author-director JEAN PIERRE BEKOLO
producer JACQUES BIDOU
productions JBA PRODUCTION, FRAMEWORK INTERNATIONAL, BRITISH FILM INSTITUTE
cast KEN GAMPU, SIPUTLA SEBOGODI, ALBEE LESOTHO, ANTHONY LEVENDALE
image RéGIS BLONDEAU
sound MAGUETTE SALLA
music JEAN CLAUDE PETIT
year of production 1997
RPCA 90 484
all rights reserved
LANGUAGES
in English – subtitled in French – 35mm / beta num pal 16/9 / beta num pal 4/3 / beta sp pal 4/3 – photography: all rights reserved