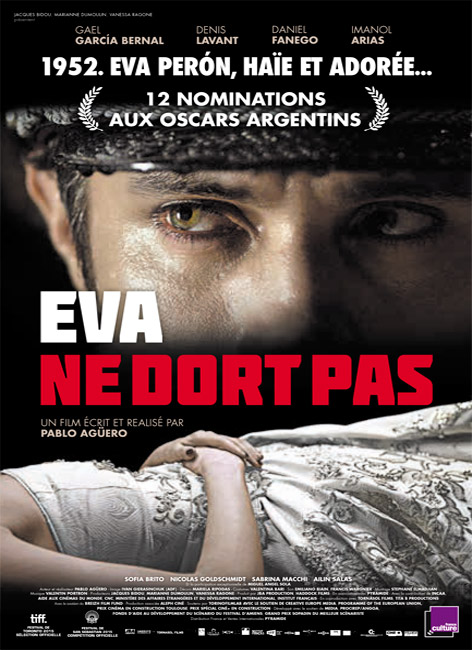 FRANCE/ARGENTINA • 85′
a film by PABLO AGUERO
Evita Perón just died. She is the most beloved, but also hated political figure of Argentina. An expert is in charge of her embalming. After years of hard work, he achieves a remarkable work. Meanwhile in Argentina coups follow each other and some dictators want to remove Evita's legacy from the people's memory. Her body would become the stake of clashes during 25 years. 25 years during which Evita has been the most powerful figure than any other living politician.
FESTIVALS
OFFICIAL SELECTION SAN SEBASTIAN FILM FESTIVAL – IN COMPETITION (Spain 2015)
SELECTED AT THE TORONTO FILM FESTIVAL (Canada 2015)
PRESS

 Download PRESS KIT


 Reviews
HOW TO GET THE FILM
INTERNATIONAL SALES
PYRAMIDE DISTRIBUTION • 32 rue de l'Echiquier 75010 Paris FRANCE / distribution@pyramidefilms.com • tel : + 33 (0)1 42 96 02 20
SALES FRANCE
PYRAMIDE DISTRIBUTION • 32 rue de l'Echiquier 75010 Paris FRANCE/ distribution@pyramidefilms.com • tel : + 33 (0)1 42 96 02 20
DISTRIBUTION commercial and not commercial
PYRAMIDE DISTRIBUTION • 32 rue de l'Echiquier 75010 Paris FRANCE / distribution@pyramidefilms.com • tel : + 33 (0)1 42 96 02 20
DVD
family use
institutional use
PYRAMIDE DISTRIBUTION • 32 rue de l'Echiquier 75010 Paris FRANCE / distribution@pyramidefilms.com • tel : + 33 (0)1 42 96 02 20
•  • •
VOD
•  •  •
LETTER OF AGREEMENT FOR FESTIVALS AND DISTRIBUTION
ADDITIONAL IMAGES
EXCERPTS
CREDIT
author-director PABLO AGUERO
producers JACQUES BIDOU, MARIANNE DUMOULIN, VANESSA RAGONE
productions JBA PRODUCTION, HADDOCK FILMS
cast GAEL GARCIA BERNAL, DENIS LAVANT, DANIEL FANEGO, IMANOL ARIAS, SOFIA BRITO, NICOLAS GOLDSCHMIDT
image IVAN GIERASINCHUK
music VALENTIN PORTRON
year of production 2015
RPCA 125465
all rights reserved
LANGUAGES