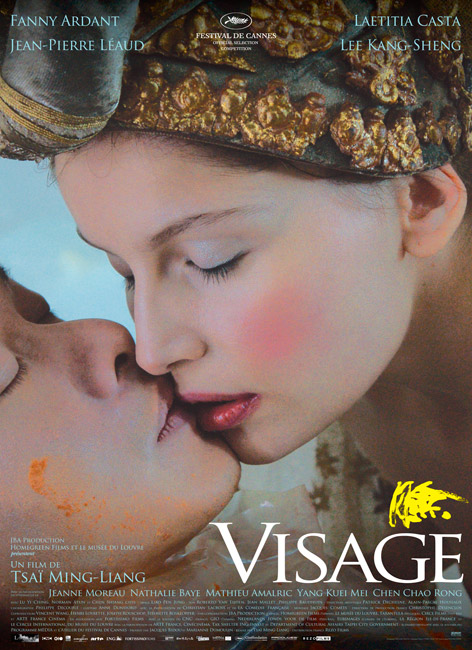 FRANCE/TAÏWAN • 141′
a film by TSAï MING-LIANG
A Taiwanese filmmaker makes a film based on the myth of Salomé at the Louvre. Even though he speaks neither French nor English, he insists on giving the part of King Herod to the French actor Jean-Pierre Léaud. To give the film a chance at the box-office, the production company gives the role of Salomé to a world famous model. But problems arise as soon as filming begins… Amidst all this confusion, the director suddenly learns of his mother's death. The producer flies to Taipei, to attend the funeral. The director falls into a deep sleep where his mother's spirit does not seem to want to leave her old apartment. The producer has no choice but to wait, alone and lost in a strange city. As after a very long voyage, filming resumes, where all who were lost in different ways gather in the underground of the Louvre.
FESTIVALS
OFFICIAL SELECTION CANNES FILM FESTIVAL (France 2009)
BEST ART DIRECTOR and BEST COSTUME – GOLDEN HORSE FESTIVAL ( Taipei 2009)
BEST COSTUME DESIGNER – ASIAN FILM AWARDS ( Hong-Kong 2010)
PRESS

 Download PRESS KIT


 Reviews
HOW TO GET THE FILM
VIMEO: https://vimeo.com/504064184
INTERNATIONAL SALES
SALES FRANCE
DISTRIBUTION commercial and not commercial
JBA PRODUCTION
16 rue Sainte Marthe 75010 Paris
DVD
family use
institutional use
ARTE FRANCE DÉVELOPPEMENT • ARTE EDITIONS
VOD
•  •  •
LETTER OF AGREEMENT FOR FESTIVALS AND DISTRIBUTION
ADDITIONAL IMAGES
EXCERPTS
CREDIT
author-director TSAï MING-LIANG
producers JACQUES BIDOU, MARIANNE DUMOULIN
productions JBA PRODUCTION, ARTE FRANCE CINéMA, TARANTULA, HOMEGREEN FILMS, LE MUSéE DU LOUVRE, CIRCE FILMS
editing JACQUES COMETS
cast LAETITIA CASTA, FANNY ARDANT, JEAN-PIERRE LéAUD, KANG-SHENG LEE, YI CHING LU, NORMAN ATUN, NATHALIE BAYE, MATHIEU AMALRIC, KUEI MEI YANG, CHAO RONG CHEN
image PENG JUNG LIAO
sound JEAN MALLET, ROBERTO VAN EIJDEN, PHILIPPE BAUDHUIN
year of production 2009
RPCA 119.458
all rights reserved
LANGUAGES
French/Mandarin – STT ENG