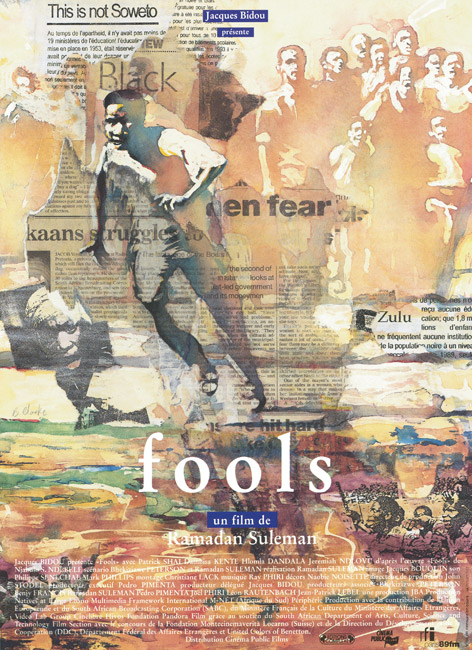 SOUTH AFRICA  •  89′
a film by RAMADAN SULEMAN
Charterston Township 1990. Professor Zamani is respected in the township. To be sure, he once raped one of his students but the community turned a blind eye. Zamani used to rail against the apartheid system but those days are long gone. Now he teaches South African history in the Afrikaner language and grudgingly organizes the picnic for National Day, which commemorates the Boers' massacre of the Zulu nation… When Zani, the rape victim's brother, returns from Swaziland where he won a place in school, he is determined to change everything. In the small hours, in the waiting room at Johannesburg station, he runs into Prof. Zamani, who's spent the night on the town. They travel back together to the harsh reality of the township. In due course, Zamani regains some of his pride and Zani, inevitably, loses some of his…under the gaze of the women, who never renounced their dignity.
FESTIVALS
LEOPARD D'ARGENT LOCARNO FESTIVAL (Switzerland 1997)
PRIX D'INTERPRETATION MASCULINE BALAFON FESTIVAL (Italy 1997)
TORONTO FESTIVAL (Canada 1998)
HOW TO GET THE FILM
INTERNATIONAL SALES
Films Distribution • 34, rue du Louvre, 75001, Paris, FRANCE • tel : +33 (0) 1 53 10 33 99
SALES FRANCE
Films Distribution
DISTRIBUTION commercial and not commercial
JBA Production • 16 rue Sainte Marthe 75010, Paris, France • tel : +33(0)1 48 04 84 60
DVD family use
JBA EDITION (distribué par Agence C3- Les Films du Paradoxe) • 16 rue Sainte Marthe, 75010, Paris, FRANCE • tel : + 33 (1) 48 04 84 60
institutional use
Adav • 41 rue des Envierges, 75020, Paris, FRANCE • tel : +33(0)1 43 49 10 02
VOD
ARTE VOD • 8 rue Marceau, 92785, Issy Les Moulineaux cedex 9, FRANCE • tel : + 33 (1) 55 00 77 77
LETTER OF AGREEMENT FOR FESTIVALS AND DISTRIBUTION
ADDITIONAL IMAGES
CREDIT
director RAMADAN SULEMAN
authors RAMADAN SULEMAN, PETERSON BHEKIZIZWE
producer JACQUES BIDOU
productions JBA PRODUCTION, NATIVES AT LARGE, EBANO MULTIMEDIA, FRAMEWORK INTERNATIONAL, M-NET
casting PATRICK SHAI, DAMBISA KENTE, HLOMLA DANDALA, THEMBI SEETE, OWEN SEJAKE, VUSI KENNENE
image JACQUES BOUQUIN
sound PHILIPPE SENECHAL
music RAY PHIRI
year of production 1997
RPCA 87 316
all rights reserved
LANGUAGES
in English, Afrikaans, Zulu – subtitled in French / in English – 35mm / beta num-sp pal 16/9 stereo / beta num-sp pal 4/3 stereo – ©photography: Cedric Nunn