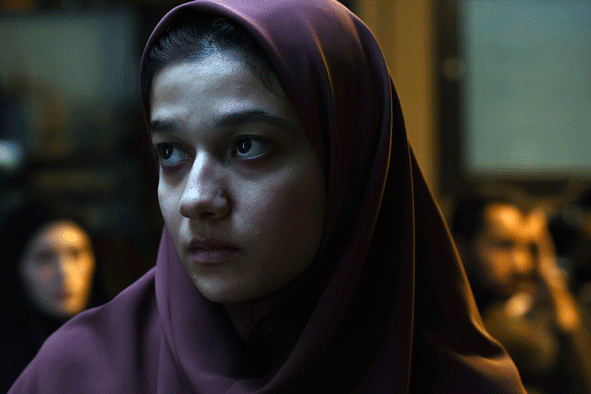 a film by MASSOUD BAKHSHI
IRAN • 90 – 100′
Coproduction between France, Iran, Germany, Switzerland, Luxembourg & Lebanon.
Editing: october 2018
Selection « Fabrique des Cinémas du Monde » Cannes 2016, supported an developped at the TorinoFilmLab, winner of the Coproduction Award and Audience Award, selection at the SundanceLab winner of the Global Filmaking Award.
Maryam (26) is "temporarily married" to Naser (65). She accidentally kills him, but is pregnant with his child. In Iran, only a victim's family can forgive the killer. For Maryam, this pardon plays out on the country's most popular reality show. She quickly discovers that nothing is what it seems, including her own family. She must choose between her child and her life, in front of millions of viewers.
Script & intention
Trained in the strong documentary tradition of the Iranian cinema, I write my films in relation with the realities of the Iranian society. My first feature film, A Respectable Family, was based on my childhood memories of the Iraq-Iran war. Despite its selection at the Cannes Film Festival and both critics' and audience's acclaim of the film abroad, it was banned in Iran and aroused an extreme anger among the Iranian authorities who brought proceeding againts me. After the last general election, the new administration closed the case, which was similar to a Kafka's story and made me seriously think about the issues of « Justice », « Forgiveness » and « Truth ». It is also inspired by real facts. I worked years ago on a documentary about women who where sentenced to death for having killed their husbands. The images of these women and their heartbreaking stories, which told of being subjected to a blind, deep form of violence, remained within me.
Yalda is a reflection of all these thoughts.
Yalda tells the story of a 26 years old woman who's been sentenced to death for having murdered her rich 65 years old husband. She is invited to the most popular live TV reality show in Iran to be possibly forgiven by the only daughter of the victim who has got the retribution right. A similar show really exists and inspired me to tell the whole story on the stage and in the backstage of the live show.
The story narrates the struggle of the female characters against a patriarchal system. It is also a film about revenge. A story in a society where tradition and modernity conflict with one another and the heavy weight of transition relies on the women's shoulders.
From my earlier documentaries up to A Respectable Family, the women of my country and their lives, hopes, dreams and problems have been at the center of my attention. Nevertheless I can call Yalda my most female film. All the women of the film are condemned but each of them resists and fights in one way or another.
TRAILER
FESTIVALS
CANNES 2016 FABRIQUE DES CINÉMAS DU MONDE
TURIN 2016 Torino Film Lab
Audience Award & Coproduction Award
SUNDANCE LAB Global Filmaking Award.
CREDIT
author director MASSOUD BAKHSHI
producers MARIANNE DUMOULIN  JACQUES BIDOU
productions  JBA PRODUCTION (France)  NIKO FILM (Germany) CLOSE UP FILMS (Switzerland)  AMOUR FOU (Luxembourg)  TITA B (France)  ALI MOSAFFA (Iran) SHORT CUTS (Liban)
casting  SADAF ASGARI, BEHNAZ JAFARI, BABAK KARIMI
image JULIAN ATANASSOV
editing JACQUES COMETS
sound DANA FARZANEHPOUR
production year 2018
formats 
versions: