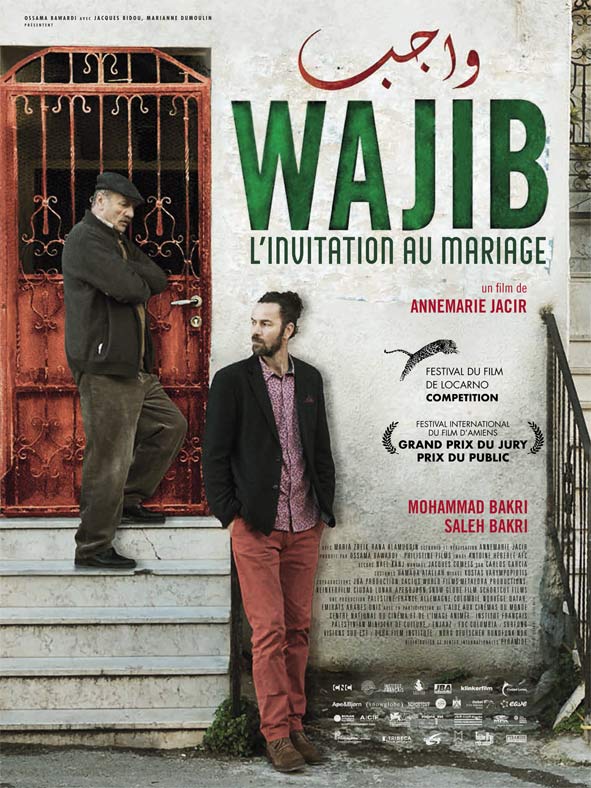 PALESTINE / FRANCE  •  96′
un film de ANNEMARIE JACIR
Abu Shadi, la soixantaine, est un père divorcé vivant à Nazareth. Shadi, son fils, arrive de Rome pour aider son père à remettre en main propre et à chaque convive un carton d'invitation pour le mariage, comme le veut la coutume en Palestine, c'est le « Wajib ». Shadi poursuit des études d'architecture et vit avec une fille dont le père est l'un des dirigeants de l'OLP. A chaque visite, et à chaque fois qu'ils se retrouvent en voiture, les deux hommes tentent de tisser un lien, de composer avec leurs vieilles rancoeurs comme avec leur façon de voir la vie. Abu Shadi défend la cause de ces palestiniens qui ne sont pas devenus des refugiés en 1948 et sont restés fidèles à leur patrie quand Shadi voit en ce peuple une communauté pathétique, en mal d'identité. Mais bien plus qu'un voyage sur une ville qui se transforme, il s'agit surtout de l'histoire de deux hommes qui se découvrent.
FESTIVALS
PALESTINE'S OFFICIAL ENTRY TO THE 2018 ACADEMY AWARDS
FESTIVAL DE LOCARNO en compétition (Suisse 2017)
Don Quixote Award, Youth Jury Award et ISPEC Cinema Award
2018 • End of July Wajib picked up BEST FILM at the Prishtina International Film Festival in Kosovo, BEST FILM in Casablanca Film Festival, Cine Ville, and the JURY PRIZE as well as BEST ACTOR for both Mohamad Bakri and Saleh Bakri at the Arab Film Festival of Oran, Algeria.
Earlier awards include Best Film at the Mar Del Plata Film Festival, Dubai Film Festival, Amiens Film Festival, Kerala International Film Festival and Washington DC International Film Festival. filmmakers.
Full list of awards
* Best Film (Golden Muhr) – Dubai Int. Film Festival
* Best Actor (Golden Muhr) – Dubai Int. Film Festival
* Jury Special Mention – London BFI Film Festival
* Best Film (Golden Unicorn) – Amiens Int. Film Festival
* Audience Award – Amiens Int. Film Festival
* Best Film (Golden Astor) – Mar Del Plata Int. Film Festival
* Best Actor Mohamad Bakri  – Mar Del Plata Int. Film Festival
* Best Feature Film – Argentine Film Critics Association, Mar Del Plata
* Best Feature Film – SIGNIS Prize, Mar Del Plata
* Best Film – Int. Film Festival of Kerala
* Youth Jury Award – Locarno Film Festival
* FICC/IFFS Prize – Locarno Film Festival
* ISPEC Cinema Award – Locarno Film Festival
* Jury Prize – MedFilm (Rome)
* Youth Jury Award – Cinemed, Montpellier
* Coup de Coeur Award – Cine Festival en Pays de Fayence
* Best Actor – Festival Int. du Cinema Mediterraneen de Tetouan
* Audience Award – Middle East Now, Florence
* Circle Award – Washington DC Int. Film Festival
* Palestine Official Oscar Entry for Best Foreign Language Film
* Asian Pacific Screen Awards – Nomination, Best Actor
* Winner 2018 Arab Critics Awards: Best Film, Best Screenplay & Best Actor
* Best Film – Festival Cinema d'iDea, Italy
* Best European Film – Prishtina Int. Film Festival (Kosovo)
* Best Film – Casablanca Film Festival, Morocco
* Jury Prize – Oran Arab Film Festival
* Best Actor – Oran Arab Film Festival (Mohammad and Saleh Bakri)
* Best Film – Cinetopia Film festival
* Best Film – Kranjska Gora International Film Festival, Slovenia
* Best Narrative Feature – Mizna Arab Film festival, Minneapolis
* Best Feature Film & Critics prize – Malmo Arab Film Festival
* Best performance in a feature Fikm to Mohammad Bakri – Jerusalem International Film Festival of Gaza
* Audience Award – International Film Festival of Algeri
★★★★
A tour de force! – Diego Semerene, Slant Magazine
Naturalistic, nicely paced and well played. A wryly-observed family drama. –
Allan Hunter, Screendaily
An intimate, well-played disquisition on what it means to be a Palestinian. –
Jay Weissberg, Variety
Annemarie Jacir's strong suits are as a scriptwriter and as a director of actors. She crafts lively, believable dialogue throughout, shot through with a likable streak of earthy humor, providing nuanced characterizations for the Bakris to convincingly inhabit and bring to life. –Neil Young, Hollywood Reporter
Proof, if any further evidence was needed, that Jacir is the pre-eminent female filmmaker in the Arab world, whether she's working as a director, producer, editor or screenwriter.
-Kaleem Aftab, Filmmaker Magazine
★★★★
Annemarie Jacir's inner-city road movie sees this duo (winningly played by real-life father and son Mohammed and Saleh Bakri) spar over matters both serious and trivial. Even as Jacir ably explores faultiness of politics, culture and tradition, she delivers a wryly affectionate odd-couple comedy. -Simon Kinnear, Total Film
PRESSE

FLYER PYRAMIDE
DOSSIER DE PRESSE
Hollywood reporter Locarno
REVUE DE PRESSE
COMMENT SE PROCURER LE FILM
ACHAT INTERNATIONAL
PYRAMIDE DISTRIBUTION
32 rue de l'échiquier 75010 Paris FRANCE • tel : + 33 (0)1 42 96 02 20
ACHAT FRANCE
PYRAMIDE DISTRIBUTION
DISTRIBUTEUR commercial et non commercial
PYRAMIDE DISTRIBUTION 
ACHAT DVD
usage familial
•  • •
usage institutionnel
•  • •
VOD
•  •  •
LETTRE ACCORD POUR FESTIVALS ET DISTRIBUTION

 Télécharger la Lettre accord
IMAGES SUPPLÉMENTAIRES
EXTRAITS
CREDIT
auteur-réalisateur ANNEMARIE JACIR
producteurs  OSSAMA BAWARDI avec MARIANNE DUMOULIN  JACQUES BIDOU
productions  PHILISTINE (Palestine)  JBA PRODUCTION (France)  CIUDAD LUNAR (Colombie)
APE&BJØRN  SNOW GLOBE FILM  SHORTCUT FILMS  &  METAFORA PRODUCTIONS
casting MOHAMMAD BAKRI  SALEH BABRI
image ANTOINE HEBERLÉ (AFC)
montage JACQUES COMETS
son IBRAHIM ZAHER  RAJA DUBAYAH  CARLOS GARCIA  KOSTAS VARYMPOPIOTIS
année de production 2017
n° RPCA en cours
durée 90 minutes
formats 1.85 DCP  – Blu-Ray
versions: vo stt fr/eng
© philistine films • jba production • ciudad lunar • shortcut films • metafora productions • ape&bjorn • snowglobe film
LANGUES
arabe – hébreu – stt fr & eng