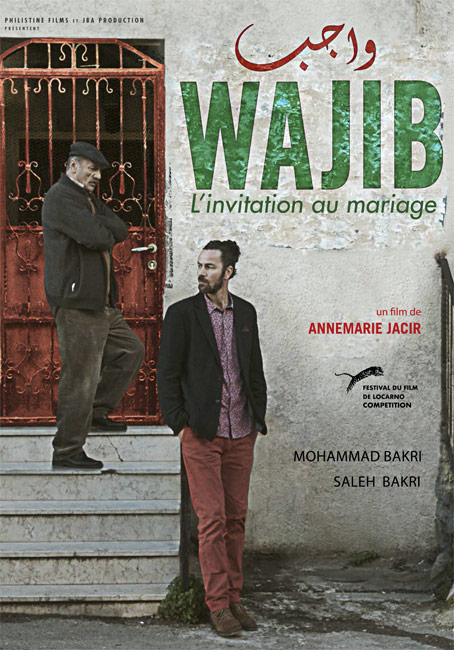 PALESTINE/FRANCE  •  90′
a film by ANNEMARIE JACIR
Abu Shadi is a divorced father and a school teacher in is mid-60s living in Nazareth. After is daughter's wedding in one month he will be living alone. Shadi, is architect son, arrives from Rome after years abroad to help is fatherin hand delivering the wedding invitations to each guest as per local Palestinian custom. As is estranged pair spend the day together, the tense details of their relationship come to a head challenging their fragile and very different lives.
FESTIVALS
PALESTINE'S OFFICIAL ENTRY TO THE 2018 ACADEMY AWARDS
LOCARNO FILM FESTIVAL IN COMPETITION (Switzerland 2017)
Don Quixote Award, Youth Jury Award & ISPEC Cinema Award
2018 • End of July Wajib picked up BEST FILM at the Prishtina International Film Festival in Kosovo, BEST FILM in Casablanca Film Festival, Cine Ville, and the JURY PRIZE as well as BEST ACTOR for both Mohamad Bakri and Saleh Bakri at the Arab Film Festival of Oran, Algeria.
Earlier awards include Best Film at the Mar Del Plata Film Festival, Dubai Film Festival, Amiens Film Festival, Kerala International Film Festival and Washington DC International Film Festival. filmmakers.
Full list of awards
* Best Film (Golden Muhr) – Dubai Int. Film Festival
* Best Actor (Golden Muhr) – Dubai Int. Film Festival
* Jury Special Mention – London BFI Film Festival
* Best Film (Golden Unicorn) – Amiens Int. Film Festival
* Audience Award – Amiens Int. Film Festival
* Best Film (Golden Astor) – Mar Del Plata Int. Film Festival
* Best Actor Mohamad Bakri  – Mar Del Plata Int. Film Festival
* Best Feature Film – Argentine Film Critics Association, Mar Del Plata
* Best Feature Film – SIGNIS Prize, Mar Del Plata
* Best Film – Int. Film Festival of Kerala
* Youth Jury Award – Locarno Film Festival
* FICC/IFFS Prize – Locarno Film Festival
* ISPEC Cinema Award – Locarno Film Festival
* Jury Prize – MedFilm (Rome)
* Youth Jury Award – Cinemed, Montpellier
* Coup de Coeur Award – Cine Festival en Pays de Fayence
* Best Actor – Festival Int. du Cinema Mediterraneen de Tetouan
* Audience Award – Middle East Now, Florence
* Circle Award – Washington DC Int. Film Festival
* Palestine Official Oscar Entry for Best Foreign Language Film
* Asian Pacific Screen Awards – Nomination, Best Actor
* Winner 2018 Arab Critics Awards: Best Film, Best Screenplay & Best Actor
* Best Film – Festival Cinema d'iDea, Italy
* Best European Film – Prishtina Int. Film Festival (Kosovo)
* Best Film – Casablanca Film Festival, Morocco
* Jury Prize – Oran Arab Film Festival
* Best Actor – Oran Arab Film Festival (Mohammad and Saleh Bakri)
* Best Film – Cinetopia Film festival
* Best Film – Kranjska Gora International Film Festival, Slovenia
* Best Narrative Feature – Mizna Arab Film festival, Minneapolis
* Best Feature Film & Critics prize – Malmo Arab Film Festival
* Best performance in a feature Fikm to Mohammad Bakri – Jerusalem International Film Festival of Gaza
* Audience Award – International Film Festival of Algeri
★★★★
A tour de force! – Diego Semerene, Slant Magazine
Naturalistic, nicely paced and well played. A wryly-observed family drama. –
Allan Hunter, Screendaily
An intimate, well-played disquisition on what it means to be a Palestinian. –
Jay Weissberg, Variety
Annemarie Jacir's strong suits are as a scriptwriter and as a director of actors. She crafts lively, believable dialogue throughout, shot through with a likable streak of earthy humor, providing nuanced characterizations for the Bakris to convincingly inhabit and bring to life. –Neil Young, Hollywood Reporter
Proof, if any further evidence was needed, that Jacir is the pre-eminent female filmmaker in the Arab world, whether she's working as a director, producer, editor or screenwriter.
-Kaleem Aftab, Filmmaker Magazine
★★★★
Annemarie Jacir's inner-city road movie sees this duo (winningly played by real-life father and son Mohammed and Saleh Bakri) spar over matters both serious and trivial. Even as Jacir ably explores faultiness of politics, culture and tradition, she delivers a wryly affectionate odd-couple comedy. -Simon Kinnear, Total Film
PRESS

 Hollywood Reporter Locarno
HOW TO GET THE FILM
INTERNATIONAL SALES
PYRAMIDE DISTRIBUTION
32 rue de l'échiquier 75010 Paris FRANCE • tel : + 33 (0)1 42 96 02 20
SALES FRANCE
PYRAMIDE DISTRIBUTION
DISTRIBUTION commercial and not commercial
PYRAMIDE DISTRIBUTION
DVD family use
institutional use
VOD
LETTER OF AGREEMENT FOR FESTIVALS AND DISTRIBUTION
ADDITIONAL IMAGES
EXCERPTS
CREDIT
author-director ANNEMARIE JACIR
producers OSSAMA BAWARDI with JACQUES BIDOU, MARIANNE DUMOULIN
productions PHILISTINE FILMS, JBA PRODUCTION, CIUDAD LUNAR,  APE&BJORN, SHORTCUTS FILMS, CACTUS WORLD FILMS, SNOW GLOBE FILM, METAFORA PRODUCTIONS
editing JACQUES COMETS
casting MOHAMMAD BAKRI, SALEH BAKRI
image ANTOINE HEBERLE
sound CARLOS GARCIA
year of production 2017 
all rights reserved
LANGUAGES
Arab – Hebrew – VO st eng – fr