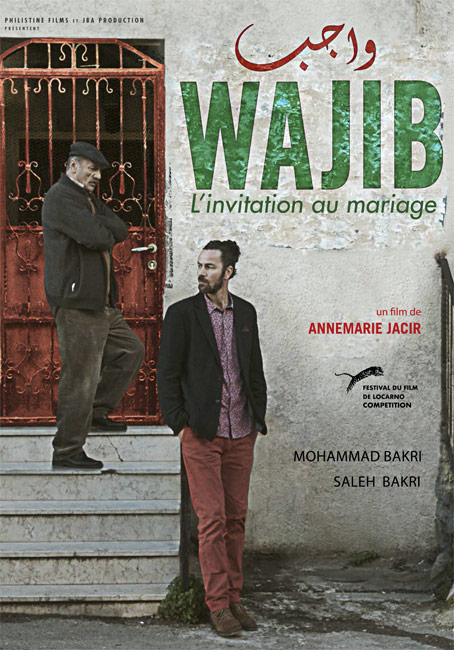 PALESTINE/FRANCE  •  90′
a film by ANNEMARIE JACIR
Abu Shadi is a divorced father and a school teacher in is mid-60s living in Nazareth. After is daughter's wedding in one month he will be living alone. Shadi, is architect son, arrives from Rome after years abroad to help is fatherin hand delivering the wedding invitations to each guest as per local Palestinian custom. As is estranged pair spend the day together, the tense details of their relationship come to a head challenging their fragile and very different lives.
FESTIVALS
PALESTINE'S OFFICIAL ENTRY TO THE 2018 ACADEMY AWARDS
LOCARNO FILM FESTIVAL IN COMPETITION (Switzerland 2017)
Don Quixote Award, Youth Jury Award & ISPEC Cinema Award
FESTIVAL INTERNATIONAL D'AMIENS 2017
Grand Prix & Prix du Jury
FESTIVAL CINEMED MONTPELLIER
Youth Award
LONDON BFI FILM FESTIVAL
Special Mention
MAR DEL PLATA
Golden Astor for Best Feature Film in the International Competition
Mohamad Bakri wins Best Actor
Wajib also won the Argentine Film Critics Association Best Feature Film Award
and Best Feature Film SIGNIS Award
KERALA INTERNATIONAL FILM FESTIVAL (India)
Best Film Award
DUBAI INTERNATIONAL FILM FESTIVAL
Best Film Award, Best Actor Award for Mohamad and Saleh Bakri
PRESS

 Hollywood Reporter Locarno
HOW TO GET THE FILM
INTERNATIONAL SALES
PYRAMIDE DISTRIBUTION
32 rue de l'échiquier 75010 Paris FRANCE • tel : + 33 (0)1 42 96 02 20
SALES FRANCE
PYRAMIDE DISTRIBUTION
DISTRIBUTION commercial and not commercial
PYRAMIDE DISTRIBUTION
DVD family use
institutional use
VOD
LETTER OF AGREEMENT FOR FESTIVALS AND DISTRIBUTION
ADDITIONAL IMAGES
EXCERPTS
CREDIT
author-director ANNEMARIE JACIR
producers OSSAMA BAWARDI with JACQUES BIDOU, MARIANNE DUMOULIN
productions PHILISTINE FILMS, JBA PRODUCTION, CIUDAD LUNAR,  APE&BJORN, SHORTCUTS FILMS, CACTUS WORLD FILMS, SNOW GLOBE FILM, METAFORA PRODUCTIONS
editing JACQUES COMETS
casting MOHAMMAD BAKRI, SALEH BAKRI
image ANTOINE HEBERLE
sound CARLOS GARCIA
year of production 2017 
all rights reserved
LANGUAGES
Arab – Hebrew – VO st eng – fr