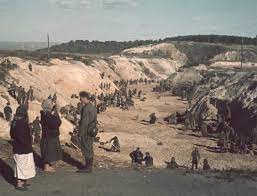 UKRAINE • 90′
a film by SERGEÏ LOZNITSA
On September, 29th and 30th, 1941 Sonderkommando 4a led by SS-Standartenführer Paul Blobel, assisted by Wehrmacht units and the Ukrainian auxiliary police force, and without any resistance from the local population, shot dead in Babi Yar ravine almost the entire remaining Jewish population of the city of Kiev – 33 771 people.
BABI YAR by Sergei Loznitsa is a radical act of transforming the language of cinema. In order to recreate on screen the humanitarian tragedy which has become one of the symbols of the XX century, director Sergei Loznitsa breaks up traditional narrative and abandons the concept of a «main hero».
In his Nobel Prize acceptance speech, poet Joseph Brodsky noted: "For in a real tragedy, it is not the hero who perishes; it is the chorus".  The subject of the film is a tragedy of the «chorus». It is the tragedy of millions of Europeans, who found themselves enslaved by grand delusions and who were eventually destroyed by them. A pandemic disaster known to us today as "Holocaust" started with individual acts of barbarity and localized killings. The film traces the origins of the catastrophe and sheds light on the initial events of the drama, which ultimately led to the point of no return.  
PRODUCTION
In development
Shooting summer 23
THE PROJECT
CREDIT
author-director SERGEÏ LOZNITSA
producers MARIA CHOUSTOVA,  MARIANNE DUMOULIN, JACQUES BIDOU, KLAUDIA SMIEJA, HEINO DECKERT
production FATA MORGANA (Netherlands) SOLAR MEDIA (Ukraine) JBA PRODUCTION (France) MAJADE (Germany) MADANTS (Poland)
image OLEG MUTU
editing ND
year of production 2023
LANGUAGE
in Russian, Ukrainian, German