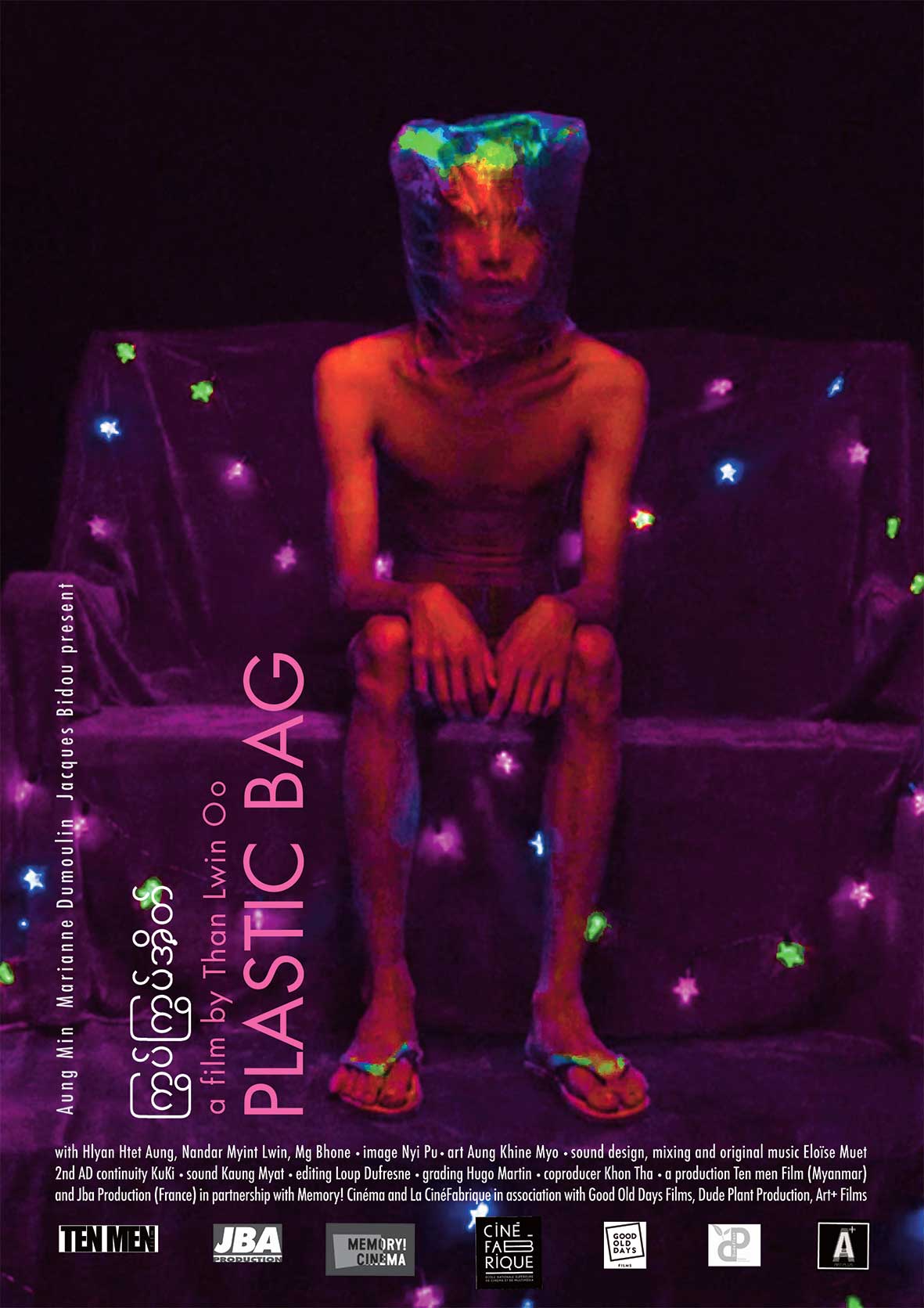 MYANMAR – 29'50"
a film by THAN LWIN OO
When I was 19, I tried to kill myself. For love. But I didn't succeed. I was too afraid to die, afraid to live. In Burmese Buddhism, suicide is a crime. "He who commits suicide must pay, he must reap the bitter harvest of a similar death over and over again for 500 lives in each of the 500 eras". I don't know yet how bitter the harvest is, but I do know that living is often a great pain.
Tun and Hnin, my two characters, are similar, they have known each other all their lives, they come from the same neighborhood, from the same misery. They are frail, thin. They are alone. They have not had time to dream. They love each other, but they don't have the right to.
My characters cover their heads with plastic bags. To asphyxiate oneself with a bag on the head is the most common way to commit suicide, it is the symbol of the garbage man, the man-waste.
When it is dark in our lives, we tend to flee to even darker places. We often imagine that our darkness will disappear there. I am obsessed with this thought. Where there is light you can see things, with darkness you can tell things. To tell them. In the darkness everything is more raw, more naked. Our fears as well as our desires. It seems to me that we get a little closer to the truth.
Dark is the story of my country, drowned after a short break in the cruelest of dictatorships, my country victim of a tight closure to the rest of the world, surrounded by a multitude of wars, especially on all its borders.
Dark too is the misery, everywhere, everywhere.
Plastic Bag tells the story of the darkest period of my youth and I hope to exorcise these moments of pain and trauma by bringing it to the screen.
LOGLINE
Myanmar, a young boy haunted by the seal of sin, pursues an impossible love and loses himself.
BIO THAN LWIN OO
Than Lwin Oo was born in 1997, in Thanlyin, the seaport of Yangon (Myanmar). A country where there are few alternatives to learn cinema. Entering the National University of Arts and Culture, he made a short film that won the best director award at the graduation ceremony in 2018. He continues to study with Dr. Aung Min (screenwriter of the film "The monk" also a director and founder of a filmmakers workshop). Than directed the short film "Between" as part of this process, which was selected by the Wathann festival and won the New Vision award there in 2019. The script for "Plastic bag" was developed at the Myanmar Script Fund 2019 and won the CinéFabrique Révélation Award.
Than Lwin Oo is currently working on writing a new short film "Childhood".
FESTIVALS
VISUAL

HOW TO GET THE FILM
INTERNATIONAL SALES
SALES FRANCE
DISTRIBUTION commercial and not commercial
JBA PRODUCTION
LETTER OF AGREEMENT FOR FESTIVALS AND DISTRIBUTION
ADDITIONAL IMAGES
CREDIT
author director THAN LWIN OO
producers  AUNG MIN • MARIANNE DUMOULIN • JACQUES BIDOU
productions TEN MEN FILM (Myanmar)•JBA PRODUCTION (France)•MEMORY CINEMA•LA CINEFABRIQUE
casting HLYAN HTET • AUNG NANDAR • MYINT LWIN • MG BHONE
image NYI PU
editing LOUP DUFRESNE • KIM FINO • MAGALI TODESCHI
sound KAUNG MYAT
sound design, mixing and original music ELOÏSE MUET
production year 2023
formats DCP Color 1,85 24f/s
versions: 29'50"  VO Burmese with English or French subtitles