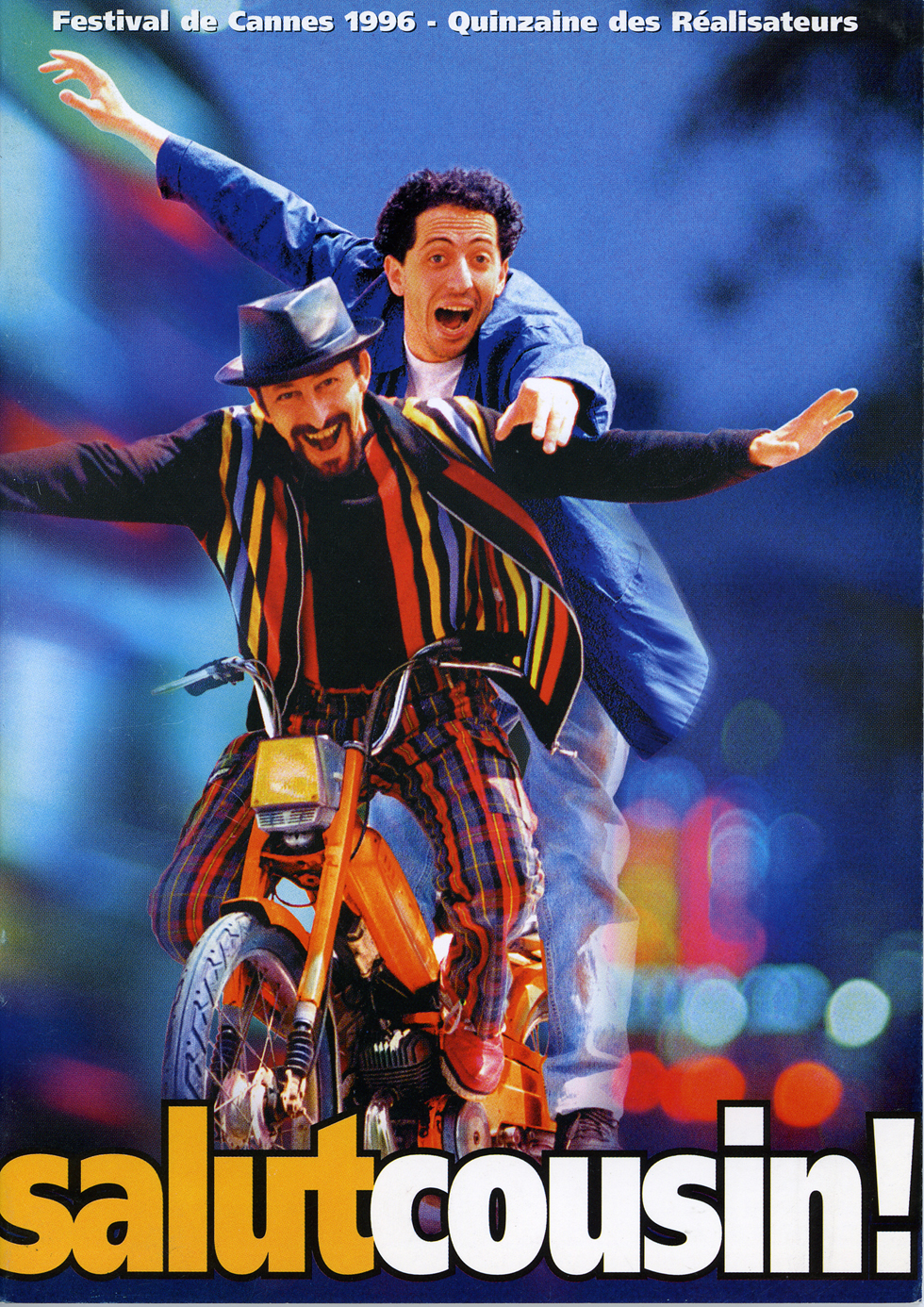 FRANCE/ALGERIA  •  98′
a film by MERZAK ALLOUACHE
The country mouse, Alilo, arrives wide-eyed from Algiers to do a little business. The town mouse, his cousin Mok, French-born and Parisian to the core, is there to meet him. Alilo loses the address of the guy he is supposed to meet and they spend a frantic week trying to track down the suitcase which he absolutely has to take back to Algiers. During this enforced stay, Alilo's constant amazement reflects the stifling strictures of Algerian society, while Mok's endless survival tricks show up the extreme harshness of life in Paris. Alilo finds true love and misses his return flight, little knowing that Mok, his "pure French" cousin, has fallen foul of the law and been deported to Algeria.
FESTIVALS
QUINZAINE DES REALISATEURS CANNES FILM FESTIVAL – PRIX DE LA CRITIQUE ARABE (France 1996)
CARTHAGE FILM FESTIVAL TANIT D'OR – PRIX DE L'OUA – MENTION FIPRESCI (Tunisia 1996)
M'NET FILM AWARDS – BEST SCENARIO AWARD – BEST DIRECTOR AWARD (South africa 1996)
CAIRO FILM FESTIVAL – PYRAMIDE D'ARGENT (Egypt 1996)
NAMUR FILM FESTIVAL – BAYARD D'OR (Belgium 1996)
MONTEREAU FILM FESTIVAL – BEST FILM – BEST ACTOR ( MESS HATTOU) (France 1997)
HAÏFA FILM FESTIVAL – ANCRE D'OR (Israel 1996)
PRESS

 Download PRESS KIT


 Reviews
HOW TO GET THE FILM
INTERNATIONAL SALES
Films Distribution
34, rue du Louvre, 75001, Paris, FRANCE • tel : +33 (0) 1 53 10 33 99
SALES FRANCE
Films Distribution
DISTRIBUTION commercial and not commercial
JBA Production
16 rue Sainte Marthe 75010, Paris, France • tel : +33(0)1 48 04 84 60
DVD
family use
JBA EDITION (distribué par Agence C3- Les Films du Paradoxe)
16 rue Sainte Marthe, 75010, Paris, FRANCE • tel : + 33 (1) 48 04 84 60
institutional use
Adav
41 rue des Envierges, 75020, Paris, FRANCE • tel : +33(0)1 43 49 10 02
VOD
ARTE VOD
8 rue Marceau, 92785, Issy Les Moulineaux cedex 9, FRANCE • tel : + 33 (1) 55 00 77 77
LETTER OF AGREEMENT FOR FESTIVALS AND DISTRIBUTION
ADDITIONAL IMAGES
EXCERPTS
CREDIT
director MERZAK ALLOUACHE
authors MERZAK ALLOUACHE, CAROLINE THIVEL
producer JACQUES BIDOU
productions JBA PRODUCTION, RTBF, FLASH BACK AUDIOVISUEL, LA SEPT CINéMA, ARTéMIS PRODUCTION, SAMSA FILM, CLEA PRODUCTIONS
cast GAD ELMALEH, MESSAOUD HATTOU, MAGALY BERDY, ANN-GISEL GLASS
image PIERRE AIM
sound PHILIPPE SENECHAL
year of production 1995
RPCA 86 899
all rights reserved
LANGUAGES
in French with Algerian sequences – subtitled in French / in English – 35mm / beta num pal 16/9 / beta sp pal 16/9 / beta sp pal 4/3 / dvd – photography: all rights reserved