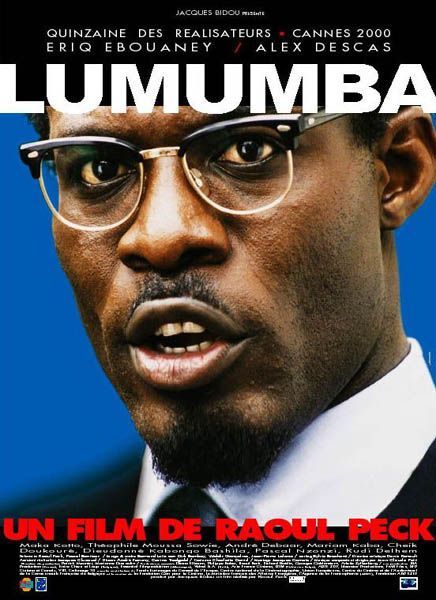 CONGO/BELGIUM • 116′
a movie by RAOUL PECK
Patrice Lumumba, the hero of Congolese independence, was not yet 30 when the first tremors of botched decolonisation thrust him to the forefront of the international political area. After a course of a few years, Lumumba, became the most reviled man of this intense cold war period. Becoming Prime Minister of one of the richest countries in Africa, Lumumba's destiny as tragic hero was charted, his assassination already programmed. He would remain in power only three months. All that remained for his murderers to do was dispose of his body.
FESTIVALS
DIRECTOR'S FORTHNIGHT – CANNES (France 2000)
TORONTO FILM FESTIVAL (Canada 2000)
PRESS

 Download PRESS KIT


 Reviews
HOW TO GET THE FILM
INTERNATIONAL SALES
FTD
Immeuble "Le Barjac" 1, Bd Victor 75015 Paris FRANCE • tel : +33(0)1 56 22 90 00
SALES FRANCE
LE BUREAU SALES
16 Passage Alexandrine 75011 Paris FRANCE tel : +33(0)1 40 33 33 80
DISTRIBUTION commercial and not commercial
JBA Production
16 rue Sainte Marthe 75010, Paris, France • tel : +33(0)1 48 04 84 60
DVD
family use
JBA EDITION (distribué par Agence C3- Les Films du Paradoxe)
16 rue Sainte Marthe, 75010, Paris, FRANCE • tel : + 33 (1) 48 04 84 60
institutional use
Adav
41 rue des Envierges, 75020, Paris, FRANCE • tel : +33(0)1 43 49 10 02
VOD
ARTE VOD
8 rue Marceau, 92785, Issy Les Moulineaux cedex 9, FRANCE • tel : + 33 (1) 55 00 77 77  77 00
LETTER OF AGREEMENT FOR FESTIVALS AND DISTRIBUTION
ADDITIONAL IMAGES
CREDIT
director RAOUL PECK
authors RAOUL PECK, PASCAL BONITZER
producer JACQUES BIDOU
productions JBA PRODUCTION, RTBF, ENTRE CHIEN ET LOUP, VELVET FILMS, ESSENTIAL FILMPRODUKTION, ARTE FRANCE CINéMA
editing JACQUES COMETS
casting ERIQ EBOUANEY, ALEX DESCAS, THéOPHILE MOUSSA SOWIE, ANDRé DEBAAR, MARIAM KABA, CHEIK DOUKOURé, DIEUDONNé KABONGO BASHILA, PASCAL NZONZI, RUDI DELHEM
image BERNARD LUTIC
sound JEAN PIERRE LAFORCE, DIRK BOMBEY, WALDIR GONçALVES
music JEAN CLAUDE PETIT
year of production 2000 – RPCA 86 742
all rights reserved
LANGUAGES
in French – subtitled in English / English version – 35mm / beta num pal 16/9 stéréo / beta num pal 4/3 stereo / beta sp pal 4/3 stereo / beta sp ntsc 4/3 / dvd (zone2-dvd9-pal) – © photography: Tucha Basto