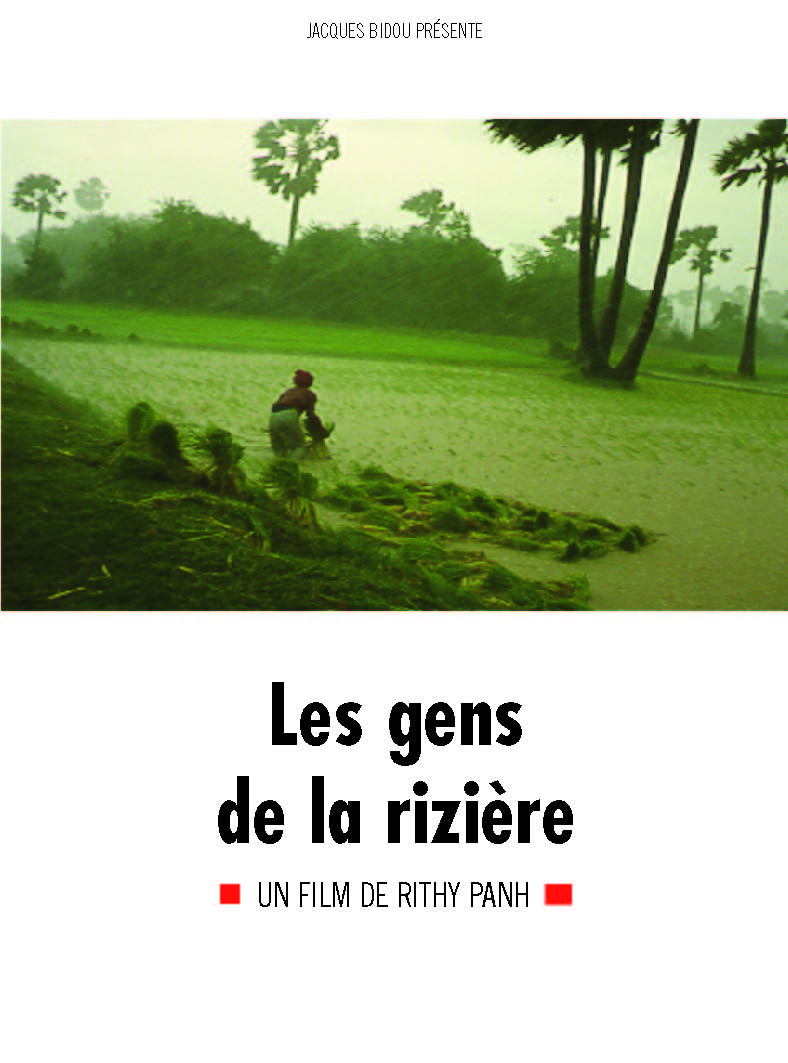 CAMBODIA  •  130′
a film by RITHY PANH
It is the story of Vong Poeuv, his wife Yim Om and their seven daughters. Their lives, their joys, thier beliefs and their survival are dictated by rice growing. The plot of land is small, the family numerous, the children are growing up. The harmony is fragile. Abanal incident occurs, transforming the cycle of life into a cycle of death. In Cambodian refugee camps, when children are asked where rice comes from, they answer: "from U.N lorries". They have never seen a ri cefield. One day, these children will have to learn to live in Cambodia, in other words, they will have to learn to cultivate, to plough, to work the land. "Rice people" tries to share this way of life, to demonstate the fra gile equilibrium on which it lies and the freedom it represents.
FESTIVALS
OFFICIAL SELECTION – COMPETITION – CANNES FILM FESTIVAL (France 1994)
NAMUR, TORONTO, TOKYO, TAÏWAN, LONDON, TUNIS, CAIRO, BOMBAY, CARTHAGE, BELGRAD, ROTTERDAM, HONGKONG, MANOSQUE, SEATTLE, JERUSALEM, DJAKARTA, NEW-YORK, SINGAPOUR, HAWAÏ, TEHERAN, DURHAM, BOSTON.
SINGAPOUR  1995 Prix du Jury Œcuménique
HAWAÏ 1995 award for the best actress for Peng Phan &  Special award of the Jury.
PRESS

 Download PRESS KIT


 Reviews
HOW TO GET THE FILM
INTERNATIONAL SALES
Films Distribution • 34, rue du Louvre, 75001, Paris, FRANCE • tel : +33 (0) 1 53 10 33 99
SALES FRANCE
Films Distribution • 34, rue du Louvre, 75001, Paris, FRANCE • tel : +33 (0) 1 53 10 33 99
DISTRIBUTION commercial and not commercial
JBA Production • 16 rue Sainte Marthe 75010, Paris, France • tel : +33(0)1 48 04 84 60
DVD family use
JBA Production • 16 rue Sainte Marthe 75010, Paris, FRANCE • tel : +33(0)1 48 04 84 60
institutional use
Adav • 41 rue des Envierges, 75020, Paris, FRANCE • tel : +33(0)1 43 49 10 02
VOD
ARTE VOD • 8 rue Marceau, 92785, Issy Les Moulineaux cedex 9, FRANCE • tel : + 33 (1) 55 00 77 77
LETTER OF AGREEMENT FOR FESTIVALS AND DISTRIBUTION
ADDITIONAL IMAGES
EXCERPTS
CREDIT
director RITHY PANH
authors EVE DEBOISE, RITHY PANH
producer JACQUES BIDOU
productions JBA PRODUCTION, LA SEPT CINéMA, ZDF, THELMA FILM AG, TSR
editing MARIE CHRISTINE ROUGERIE
actors PENG PHAN, MOM SOTH, CHIM NALINE, VA SIMORN
image JACQUES BOUQUIN
sound JEAN CLAUDE BRISSON
music MARC MARDER
year of production 1994
RPCA 81 121
all rights reserved
LANGUAGES
in Khmer – subtitled in French / in English – 35mm / beta num pal 16/9 mono / beta num pal 4/3 mono/ beta sp pal 4/3 mono / beta num ntsc 16/9 mono – photography: all rights reserved