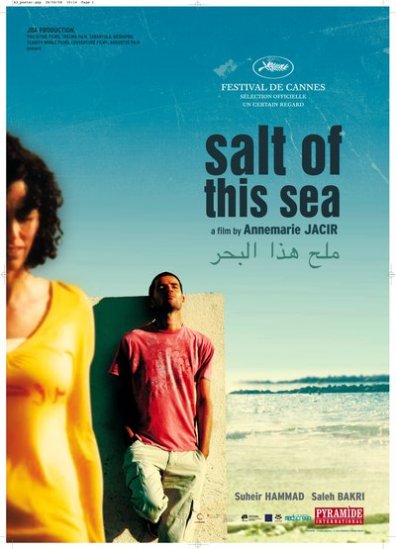 PALESTINE/FRANCE • 105′
a film by ANNEMARIE JACIR
Soraya, 28, born and raised in Brooklyn, decides to return to live in Palestine, the country her family was exiled from in 1948.
On arriving in Ramallah, Soraya tries to recover her grandparent's money, frozen in an account in Jaffa, but is refused by the bank. She meets Emad, a young Palestinian whose ambition, contrary to hers, is to leave forever. Tired of the constraints that dictate their lives, Soraya and Emad know in order to be free, they must take things into their own hands, even it means breaking the law. In this quest for life, we follow their trail through remains of a lost Palestine.
FESTIVALS
OFFICIAL SELECTION – UN CERTAIN REGARD – CANNES (France 2008)
SPECIAL JURY PRIZE – OSIANS'S ARAB INTERNATIONAL FILM FESTIVAL (India 2008)
BEST SCREENPLAY – DUBAI INTERNATIONAL FILM FESTIVAL (Dubaï – emirats arabes unis 2008)
INTERNATIONAL CRITICS AWARD (FIPRESCI PRIZE) – OSIAN'S ARAB AND ASIAN INTERNATIONAL FILM FESTIVAL (India 2008)
RANDA CHAHAL PRIZE- JOURNEES CINEMATOGRAPHIQUES DE CARTHAGE (Tunisia 2008)
FIRST PRIZE – BEST FILM – SGUARDI ALTROVE FILM FESTIVAL (Italy 2009)
AUDIENCE CHOICE – BEST FEATURE – CHICAGO PALESTINE FILM FESTIVAL (Usa 2009)
BEST ACTRESS AWARD – EURO ARAB FILM FESTIVAL AMAL (Spain 2009)
THE AUDIENCE CHOICE AWARD – INTERNATIONAL HUMAN RIGHTS FILM FESTIVAL – NEW ORLEANS (Usa 2010)
PRESS

 Download PRESS KIT


 Reviews
HOW TO GET THE FILM
INTERNATIONAL SALES
PYRAMIDE Distribution 32 rue de l'échiquier 75010 Paris, FRANCE • tel : + 33 (0)1 42 96 02 20
SALES FRANCE
PYRAMIDE Distribution
DISTRIBUTION commercial and not commercial
PYRAMIDE Distribution
DVD
family use
PYRAMIDE Distribution
institutional use
•  • •
VOD
•  •  •
LETTER OF AGREEMENT FOR FESTIVALS AND DISTRIBUTION
ADDITIONAL IMAGES
EXCERPTS
CREDIT
author-director ANNEMARIE JACIR
producers JACQUES BIDOU, MARIANNE DUMOULIN
productions JBA PRODUCTION, THELMA FILM AG, MEDIAPRO, TSR, TARANTULA, PHILISTINE FILMS, LOUVERTURE FILM, CLARITY WORLD FILMS, AUGUSTUS FILM
editing MICHèLE HUBINON
actors SUHEIR HAMMAD, SALEH BAKRI
image BENOIT CHAMAILLARD
sound ERIC VAUCHER, PETER FLAMMAN
music KAMRAN RASTEGAR
year of production 2008
RPCA 114687
all rights reserved
LANGUAGES
in Arabic 2.984 mètres / 109mn / 35mm couleur Dolby 1,66photography: all rights reserved