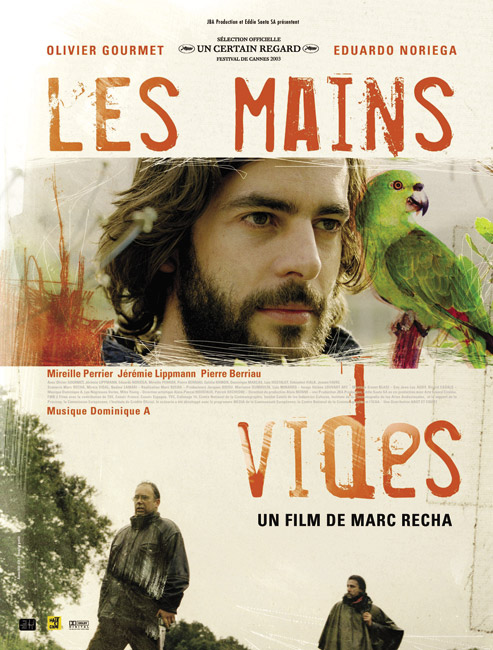 SPAIN/FRANCE  • 126′
a film by MARC RECHA
The story could be told from several points of view. There's Perroquet, a pesky parrot who witnessed the premature demise of his owner, Madame Catherine, due to her excessive lifestyle. The bird was also around to see Eric, the mechanic, bury her on the sly. The trains that stop at the small town and the nomadic ticket controllers like Sophie who move through their carriages could all spill a few beans. Not to mention the passengers, like handsome Gérard, who are only passing through. The story could also be told by Yann, the café owner, and the many drinks he serves. It's a story that is both simple and totally chaotic.
FESTIVALS
OFFICIAL SELECTION – CANNES FILM FESTIVAL (France 2003)
TORONTO FILM FESTIVAL (Canada 2003)
PRESS

 Download PRESS KIT


 Reviews
HOW TO GET THE FILM
INTERNATIONAL SALES
Films Distribution
34, rue du Louvre, 75001, Paris, FRANCE • tel : +33 (0) 1 53 10 33 99
SALES FRANCE
Films Distribution
DISTRIBUTION commercial and not commercial
•  • •
DVD
family use
JBA EDITION (distribué par Agence C3- Les Films du Paradoxe)
16 rue Sainte Marthe, 75010, Paris, FRANCE • tel : + 33 (1) 48 04 84 60
institutional use
Adav • 41 rue des Envierges, 75020, Paris, FRANCE • tel : +33(0)1 43 49 10 02 • fax : +33(0)1 43 49 25 70
VOD
ARTE VOD • 8 rue Marceau, 92785, Issy Les Moulineaux cedex 9, FRANCE • tel : + 33 (1) 55 00 77 77
LETTER OF AGREEMENT FOR FESTIVALS AND DISTRIBUTION
ADDITIONAL IMAGES
CREDIT
director MARC RECHA
authors MARC RECHA, NADINE LAMARI, MIREIA VIDAL
producers JACQUES BIDOU, MARIANNE DUMOULIN, LUIS MINARRO
productions JBA PRODUCTION, FMB2 FILMS, ARTE FRANCE CINéMA, EDDIE SAETA SA
editing ERNEST BLASI
cast OLIVIER GOURMET, EDUARDO NORIEGA, JéRéMIE LIPPMANN, MIREILLE PERRIER, PIERRE BERRIAU
image HéLèNE LOUVART AFC
sound JEAN LUC AUDY, RICARD CASALS
year of production 2003
RPCA 105 403
all rights reserved
LANGUAGES
in French, Catalan – subtitled in French / in English – 35mm / beta num pal 16/9 stéréo / beta num pal 4/3 stéréo / beta sp pal 4/3 stéréo / dvd (zone2-dvd9-pal) – ©photography: Lucia Faraig