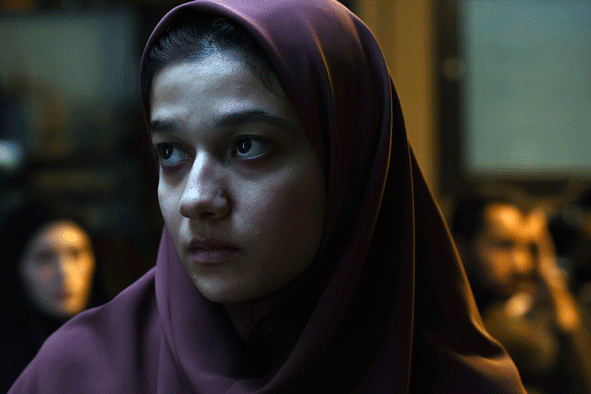 a film by MASSOUD BAKHSHI
IRAN • 89′
In Iran today: Maryam (22) accidentally kills her husband Nasser (65) and is sentenced to death. The only person who can save her is Mona, Nasser's daughter. All Mona has to do is appear on a popular live TV show and forgive Maryam. But forgiveness proves difficult when they are forced to relive the past.
written & directed by Massoud BAKHSHI / with Sadaf ASGARI, Behnaz JAFARI and Babak KARIMI, Fereshteh SADRE ORAFAEE, Forough GHOJABAGLI, Arman DARVISH, Fereshteh HOSSEINI / Produced by Jacques BIDOU, Marianne DUMOULIN / Camera: Julian ATANASSOV / Editor: Jacques COMETS / Sound : Dana FARZANEHPOUR, Denis SECHAUD  / Art : Mahmoud BAKHSHI, Leila NAGHDI PARI / Costume : Raana AMINI / Coproducers : NICOLE GERHARDS, JOËLLE BERTOSSA and FLAVIA ZANON, BADY MINCK and ALEXANDER DUMREICHER-IVANCEANU, GEORGES SCHOUCAIR, FRED PREMEL, ALI MOSAFFA / A production: JBA PRODUCTION, NIKO FILM, CLOSE UP FILMS, AMOUR FOU LUXEMBOURG, SCHORTCUT FILMS, TITA B PRODUCTIONS, ALI MOSAFFA PRODUCTIONS / in coproduction with ZDF ARTE, RTS, SRG SSR, VOO BE TV / PANACHE PRODUCTIONS and LA COMPAGNIE CINEMATOGRAPHIQUE / with the support of EURIMAGES, CNC, FILM FUND LUXEMBOURG, PICTANOVO avec le soutien de la REGION HAUTS-DE-FRANCE et en partenariat avec le CNC, MEDIENBOARD BERLIN-BRANDEBOURG, FILMFÖRDERUNGSANSTALT, OFC, NORDMEDIA, REGION BRETAGNE, CINEFOROM, BREIZH FILM FUND, TORINOFILMLAB, PYRAMIDE, COOPERATION BELGE AU DEVELOPPEMENT, SUNDANCE, BON GAH, ANGOA
Sales : Pyramide International
TRAILER
PRESS

 Download THE PRESS KIT
FESTIVALS
CANNES 2016 FABRIQUE DES CINÉMAS DU MONDE
TURIN 2016 Torino Film Lab
Audience Award & Coproduction Award
SUNDANCE LAB Global Filmaking Award.
HOW TO GET THE FILM
INTERNATIONAL SALES
PYRAMIDE INTERNATIONAL
32 rue de l'Echiquier 75010 Paris FRANCE /sales@pyamidefilms.com • tel : + 33 (0)1 42 96 02 20
SALES FRANCE
PYRAMIDE DISTRIBUTION
DISTRIBUTION commercial and not commercial
distribution@pyramidefilms.com • tel : + 33 (0)1 42 96 02 20
PYRAMIDE DISTRIBUTION
DVD
family use
institutional use
•  • •
VOD
•  •  •
LETTER OF AGREEMENT FOR FESTIVALS AND DISTRIBUTION
ADDITIONAL IMAGES
CREDIT
author director MASSOUD BAKHSHI
producers MARIANNE DUMOULIN  JACQUES BIDOU
productions  JBA PRODUCTION (France)  NIKO FILM (Germany) CLOSE UP FILMS (Switzerland)  AMOUR FOU (Luxembourg)  TITA B (France)  ALI MOSAFFA PRODUCTIONS (Iran) SHORTCUT FILMS (Liban)
casting  SADAF ASGARI, BEHNAZ JAFARI, BABAK KARIMI
image JULIAN ATANASSOV
editing JACQUES COMETS
sound DANA FARZANEHPOUR, DENIS SÉCHAUD
production year 2019
formats : DCP – COLOR – 1,85 – 24F/S – 5.1
versions: FARSI – WITH FRENCH/ENGLISH/GERMAN SUBT