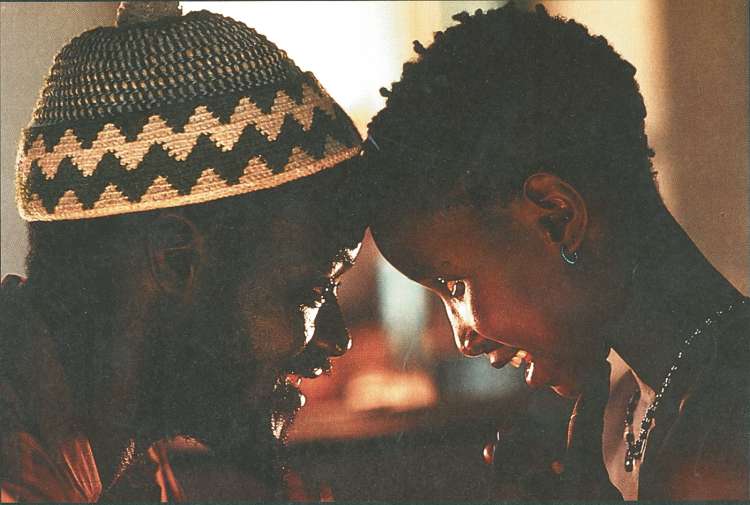 GUINEA BISSAU  •  93′
a film by SANA NA N'HADA
Xime, 1962. Iala is confronted with losing the authority over his two sons. Raul, the elder son, had been sent to the seminary. In fact, he joined the liberation movement against the Portuguese colonial regime. Bedan, the younger son, remaining behind the village, is in opposition to the traditional authority of the village elders and he is secretly in love with his father's young bride to be. The colonial authorities are also in turmoil. When Raul returns to the village, events escalate, then rapidly lead to the violence which forces everyone to make a choice.
FESTIVALS
OFFICIAL SELECTION – UN CERTAIN REGARD – CANNES (France 1994)
HOW TO GET THE FILM
INTERNATIONAL SALES
Films Distribution • 34, rue du Louvre, 75001, Paris, FRANCE • tel : +33 (0) 1 53 10 33 99
SALES FRANCE
Films Distribution • 34, rue du Louvre, 75001, Paris, FRANCE • tel : +33 (0) 1 53 10 33 99
DISTRIBUTION commercial and not commercial
JBA Production • 16 rue Sainte Marthe 75010, Paris, France • tel : +33(0)1 48 04 84 60
DVD family use
JBA Production
institutional use
Adav • 41 rue des Envierges, 75020, Paris, FRANCE • tel : +33(0)1 43 49 10 02 • fax : +33(0)1 43 49 25 70
VOD
•  •  •
LETTER OF AGREEMENT FOR FESTIVALS AND DISTRIBUTION
ADDITIONAL IMAGES
CREDIT
author-director SANA NA N'HADA
producers JACQUES BIDOU, JEAN PIERRE GALLEPE, HILLIE MOLENAAR, JOOP VAN WIJK
productions LES MATINS FILMS, MOLENWIEK FILM BV, ARCO IRIS
casting JOSé TAMBA, JUSTINO NETO, AFUL NACKA
image MELLE VAN ESSEN
sound JEAN PIERRE LAFORCE, PHILIPPE SENECHAL
music MALAM MANé, PATRICIO WANG
year of production 1994
RPCA 84 202
all rights reserved
LANGUAGES
in Criollo, Portuguese – subtitled in French/ in English – 35mm / beta sp pal 4/3 – photography: all rights reserved