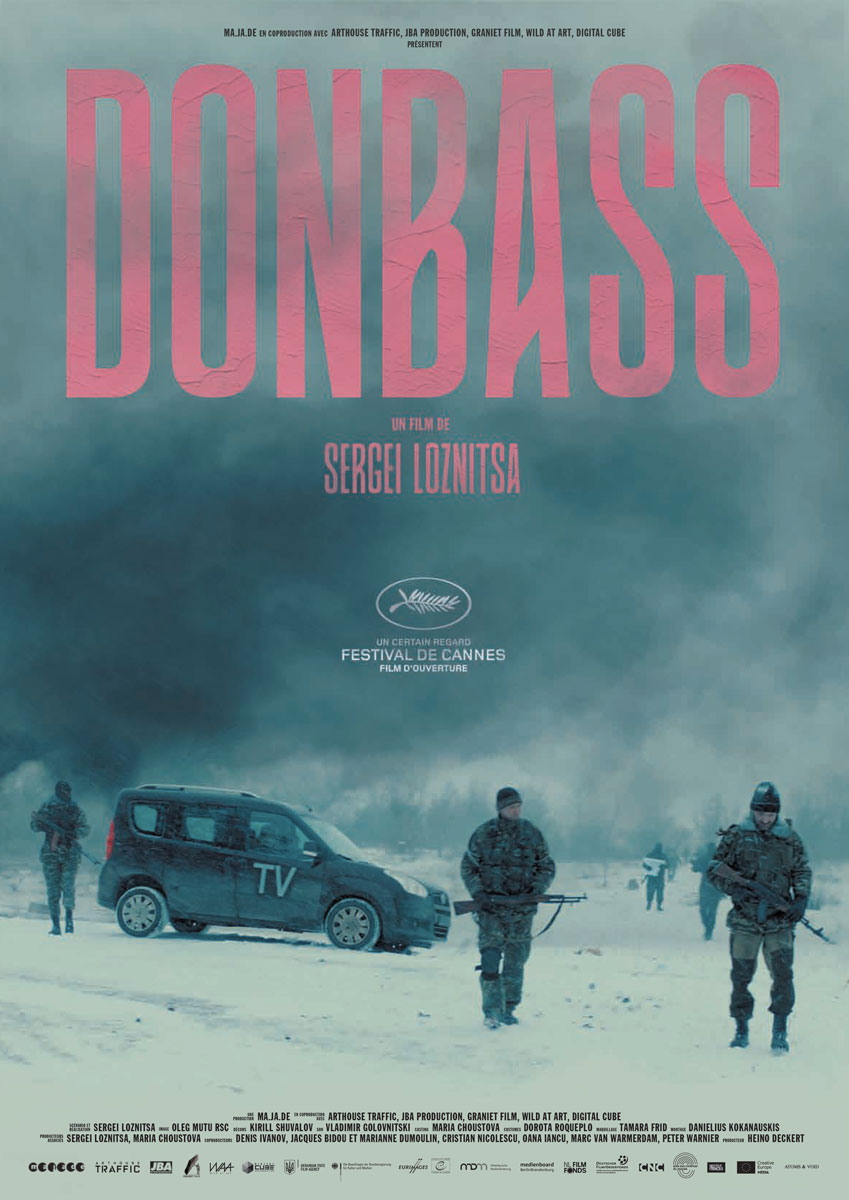 UKRAINE  • 120′
DONBASS by Sergei Loznitsa
When we call "peace" the war, when the propaganda is presented as the truth, when we call "love" the hatred, it is there that the life begins to look like the death. Donbass survives. Manuel practises hell.

There is a hackneyed phrase: history repeats itself – the first time as tragedy, the second time as farce. No. There is still a third reflection of the same events, the same plot: a reflection in the concave mirror of the underground world. The plot is unimaginable and yet real, it really exists and is right next to us. (Varlam Shalamov, "Pain")

It seems to me that these sentences describe very exactly the state of things on our territory, the one that was previously Soviet Union, as well as subject of the movie which I get ready to shoot: the reflection of the history in a distorting mirror of the underground world.

DONBASS


WINNER IN CANNES "BEST DIRECTOR" BY THE JURY OF "UN CERTAIN REGARD"
FESTIVALS
OFFICIAL SELECTION  CANNES 2018
OPENING SECTION  "UN CERTAIN REGARD"
PRESS

 Download THE PRESS KIT
HOW TO GET THE FILM
INTERNATIONAL SALES
PYRAMIDE DISTRIBUTION
32 rue de l'Echiquier 75010 Paris FRANCE / distribution@pyramidefilms.com • tel : + 33 (0)1 42 96 02 20
SALES FRANCE
PYRAMIDE DISTRIBUTION
DISTRIBUTION commercial and not commercial
PYRAMIDE DISTRIBUTION
DVD
family use
institutional use
•  • •
VOD
•  •  •
LETTER OF AGREEMENT FOR FESTIVALS AND DISTRIBUTION
ADDITIONAL IMAGES

TRAILER
CREDIT
author director SERGEI LOZNITSA
producers HEINO DECKERT  DENYS IVANOV  MARIANNE DUMOULIN  JACQUES BIDOU
productions  MAJADE (Germany) ART HOUSE TRAFFIC (Ukrania) JBA PRODUCTION (France) TOM & VOID (the Netherlands)
International sales PYRAMIDE INTERNATIONAL
casting Tamara Yatsenko, Liudmila Smorodina, Olesya Zhurakovskaya, Boris Kamorzin, Sergei Russkin, Petro Panchuk, Irina Plesnyaeva, Zhanna Lubgane, Vadim Dobuvsky, Alexander Zamurayev, Gerogy Deliev, Valeriu Andriuta, Konstantin Itunin, Valery Antoniuk, Nina Antonova, Natalia Buzko, Sergei Kolesov, Svetlana Kolesova, Sergei Smeyan etc.
image OLEG MUTU
editing DANIELUS KOKANAUSKIS
sound VLADIMIR GOLOVNITSKI
production year 2018
formats 35MM
versions: Ukrainian, Russian